- Welcome to the STEREO MP3 Project -



Please set resolution of your video at 800x600 minimun and MEDIUM CHARACTER!

This Page contains instructions & software for create a Stereo Hi-Fi Mp3 BASED ON A PERSONAL COMPUTER. The software is all free, except for the 128x64 Dot Matrix display (not ready). The Stereo that I have made supports 2 LCD 20x4, an I/O interface for drive 2 electric motors and a small keyboard for input. The project is based on the very powerfull 'MPXPLAY' (You need MPXPLAY 1.42 !) software for play MP3 files. If you have any question please write. Enjoy!


Here you can see a picture preview, if you want see all of it go to the Picture Section.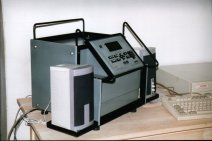 The hardware that I have used is listed below, but you can try also other types of cpu (less powerfull) because the MPXPLAY software don't need very much system resources.


| | |
| --- | --- |
| - CPU | Pentium 120 Mhz |
| - HD | 2 : 3.4 Gb + 4.1 Gb |
| - LCD | 2 LCD 20x4 with Backlight of Xiamen Corporation (LPT1) |
| - INPUT | Modified Keyboard (see pictures) |
| - SOUND | Sound Blaster AWE64 |
| - VU-METER | A double simple circuits for Vu-Meter with 24 Leds |
| - I/O | An Input/Output Interface for Led & Motors (LPT2) |
| - MOTORS | 3 Little Electric 12 Volts Motor |
| - ADAPTORS | 2 Adaptors : 6 Volts & 12 Volts |

The software that I have Made drive 2 LCD at the same time using only one Parallel Port. The second Parallel Port is for the Motors & Leds.
MPXPLAY runs under Dos, so if you want use it you must install a Dos version on your PC because is not compatible with Windows 95/98.
My program is a TSR (terminate/stay resident) that read information on video memory and report it to you.
The FIRST LCD (how you can see on the Pictures) displays these information :

- 1 line display Song Name, Author, Album name & Year
- 2 lines are for Spectrum
- Last line display the time of song, the number, and the total time.

The SECOND LCD displays these other information :
- 1 line display Vu-Meter & Surrond, treble, Bass when it change
- 1 line are for position in song
- 1 line are for Volume
- 1 line are for Speed

The part of software that control I/O displays :

- 1 Red Led for Pause Mode
- 1 Green Led for Replay Mode
- 1 Blu Led for Random Mode
- 1 Red Led for Autovolume Mode


You can download all software for this project in the bottom of this page or go to the Main Download Page.

You can see the Pictures for all of this.
When you use arrow button for search for a song, the second line on first LCD write the name of the song that is highlighted on MPXPLAY.

The particularity of this Stereo is the 3 electric motors that put-out a "Drawer" that contain the CD-Covers (for a quick search), and the second LCD display. All is controlled by the I/O Interface.

Here is a list of what's to do :

- Support for Cross Fade (key & led)
- Support for a 128x64 Graphical Display
- Support for a Infra Red Receiver



Two words on the I/O Interface & motors :

You can find the project of the I/O on the Useful Circuits Section. The problem that I have found is on the RELAYS for drive motors : I have only 6 Volt RELAYS so I can't use the 5 Volt of the main PC Adaptor. The only solution was to buy a 6 Volts adaptor (remember that is NOT the right way to do it, because the parallel port of PC is able to manage 5 volts so I don't know if it will broke on the future) and another 12 Volts adaptor for the motors. The result is that my MP3 Stereo need 4 connection to the electric socket.
I have take the motors for the drawer & 2° LCD on a 2 old CD-ROM, it's really simple use it because they are ready with motors and with sensor for the OPEN/CLOSE position.(sorry for my really bad english, I hope you will understand).
This is the connection for the LCD Displays :
- The PIN "E" (number 6 of display 1) must be connected to the PIN number 16 of Parallel Port

- The PIN "E" (number 6 of display 2 ) must be connected to the PIN number 1 of Parallel Port